UCPH FOOD's research in meat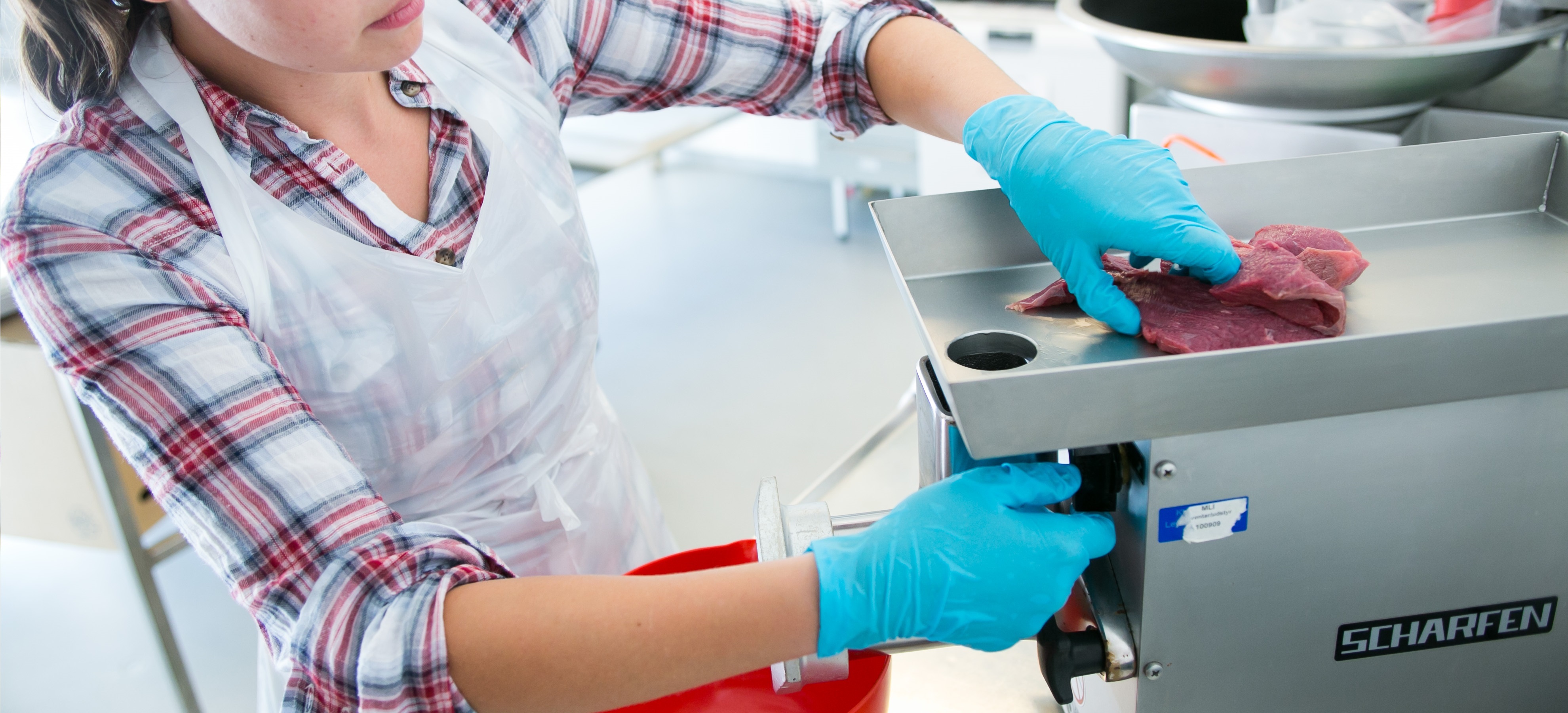 Meat research at the Department of Food Science (UCPH FOOD) at the University of Copenhagen
Meat has been a natural part of the diet for more than 1.5 million years and it is estimated that more than 90 % of the world's population eats meat. It is expected that, in line with global economic development, worldwide meat consumption will increase by up to 40 % from 2017 to 2035 (Source: Rabobank, 2017).
Meat is a very complex raw material and there are a number of challenges associated with the production and processing of meat. This includes, for example, ensuring the eating, technological (colour and water retention) and nutritional quality of the meat.
The Danish meat industry is facing major challenges in the coming years and has to increase value in the value chain, especially in the last part of the chain, in the processing stage, through the development of new products and ingredients in order to continue to be competitive in the global market, where Denmark is one of the biggest players. There is also an increased need for product differentiation targeting new consumers – both in the national and global market.
The greatest challenge for meat production is the environmental impact associated with raising animals, which is a contributing factor to global climate change. It is therefore necessary to significantly increase sustainability in meat production and processing.
At UCPH FOOD we are ready to help with the challenges the meat industry is facing. We conduct research in a variety of areas related to meat and use a variety of "state-of-the-art" research methods, including proteomics, metabolomics and Big Data analyses. We also have meat pilot facilities, where it is possible to produce most types of meat products such as minced and fermented sausages, dried hams and sous vide products.
Strategic research areas at UCPH FOOD
Better utilisation of the animal:
Better utilisation of natural resources in food production is a key challenge and it is therefore necessary to make efficient use of the animals that are butchered. It is therefore important to ensure optimal utilisation of the individual cuts and by-products, such blood from the slaughtering process.
A number of our research projects are concerned with the development of new production methods where low value by-products are converted into new functional ingredients or bioactive components that can be used to develop new healthy products.
There is also a focus on muscle differentiation (individual cuts) in relation to the biochemical properties of the individual muscle and in connection with the treatment – from slaughter to potential processing for cooking. Here we are contributing to an optimal/better use of all the muscles of the animal. For example, it could be determining the size of the pieces of meat using advanced online measuring equipment.
Meat and the consumer:
The future marketing of meat and meat products is expected to be more diverse with an increased focus on reducing the environmental impact of consumption and production.
The trend is towards an adaptation in the product range to include more high-quality meat products, where consumers are willing to pay a premium for slightly smaller amount and where waste in households is reduced to a minimum. The research efforts at the Department of Food Science reflect a focus on high-quality products with an attractive sensory quality that fills and satisfies the consumer.
There is a need for better consumer understanding in different consumer segments with an emphasis on how the consumer can be convinced to accept slightly smaller portion sizes and are willing to pay a premium for high quality.
In addition, globalisation and consumer understanding across cultures play an important role in the meat industry in Denmark. Cross-cultural consumer research can open up new outlets and markets. The interaction between consumer understanding, economic potential and product development plays a key role.
Meat and health:
Epidemiological studies show a tendency for a correlation between meat intake and an increased risk of certain types of cancer, among other things. With targeted research, we try to clarify what makes meat less healthy than other foods so that we can bypass these health risks by developing processes that can increase the bioavailability of health-promoting nutrients and bioactive components and reduce the harmful substances in processed meat products.
The human body as a bioreactor is interesting and by mapping what happens to the meat when it is eaten and how the iron pigments are involved in the formation of the harmful free radicals, we can help make meat healthier. Furthermore, knowledge about how meat affects the intestinal microflora and how metabolomics can reveal the impact of meat on the body will contribute to a real product differentiation for different consumer segments.
Meat, gastronomy and innovation:
The development of new products is based on science and not just on good craftsmanship. We can catalyse the creativity found in gastronomic environments and apply it to larger scale production and solve the challenges of scaling up and targeting other marketing challenges (perishability, packaging).
The science behind taste (taste synergy), perception (flavour pairing, surprise) and meal science combined with creative environments are our basis for bringing new and better products into the processing industry, for example, in terms of improved quality, texture, health and flavour.
In-line quality control:
Various research projects are investigating the possibility of implementing Process Analytical Technology (PAT) in meat production with a view towards more sustainable production (environment footprint, H2O and CO2) and implementation of a new sorting (grading), based on real chemical quality parameters (such as iodine value and bioactive metabolites) rather than the current grading techniques based solely on volumetric parameters.
Safety, hygiene and quality in relation to new technologies and processes:
A requirement for food preparation, processing and finished products is that proper food safety is maintained. Here there are many challenges in the form of raw materials and ingredients of different origins, the desire for more gentle or unconventional processing and a desire for better perishability or the potential for storage energy-intensive conditions. It is therefore crucial to understand the principles and mechanisms of processing technologies and processes and to understand the interaction between existing and emerging risk factors, the food matrix and the processes used.
Based on our research experience in the interaction between, for example, atmospheric composition, heat treatment, cooling, marinating, plasma treatment, ultrasound, antimicrobial ingredients, bio-protective cultures, etc. and the pathogenic and quality-deteriorating microorganisms, we are helping to design safe processes and products, as well as developing tools for manufacturers and authorities.
Hygiene in relation to equipment, process facilities and personal hygiene remain a serious challenge. Using our knowledge of microbial contamination, contamination routes, adhesion and biofilm formation, we are supporting the development of targeted and sustainable cleaning and disinfection and are helping to improve the design of equipment.
Depending on the processing the meat undergoes from slaughter to cooking, food research can also contribute to the final product quality being positively influenced and can help ensure to ensure a given quality or conduct targeted management towards a desired quality.
Meat and education
The results from the meat research are being used in a number of courses on both the bachelor and graduate level at UCPH FOOD. Meat is being taught in the bachelor's programme "Food Science" and if you choose the quality and technology specialisation, you can do a meat traineeship and become a food engineer specialising in meat. In the Master of Food Science and Technology there is a focus on meat in various courses and it is possible to choose study courses in food safety or process analytical technology with a focus on meat.
Collaborations
The Department of Food Science collaborates with a wide range of companies in the meat industry: Danish Crown, DAT-Schaub, Tican, Tulip, Hilton Food, Danpo, Rose Poultry, Marel, Scanhide, Tub.ex, ISI Food protection, Frontmatec and Rævhede Naturprodukter.
We also collaborate with several departments at the Faculty of Science, SCIENCE: Department of Food and Resource Economics (IFRO), Department of Plant and Environmental Sciences (PLEN) and Department of Nutrition, Exercise and Sports (NEXS) and the Faculty of Health and Medical Sciences, HEALTH, around meat research.