29 September 2022
New specialisation in plant-based foods in the MSc Programme in Food Science and Technology
Spécialisation in plant-based foods
We have to get better at processing plants into climate-friendly foods, while at the same time focusing on nutrition, health, and taste. That's why we, at the University of Copenhagen, are offering a specialisation in plant-based foods in the MSc programme in Food Science and Technology from September 2023.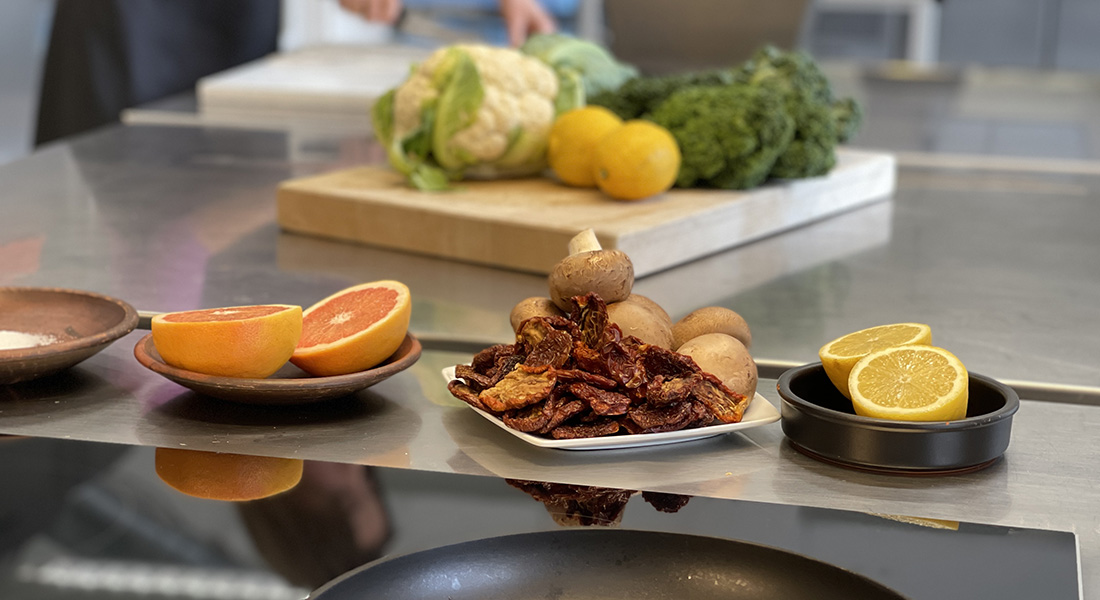 By Anna Haldrup, Head of the Department of Food Science at the University of Copenhagen (UCPH FOOD).
Currently there is a focus on climate among consumers, companies and organisations within the food industry as well as among researchers and students undertaking the advanced food education courses. And at the Department of Food Science at the University of Copenhagen, we are adopting an interdisciplinary and holistic approach to cultivation, raw materials, processing methods, ingredients, meals, etc., to offer even more research and education that contributes to the green transformation of the food system. 
For example, we are currently researching digitalisation, including the collection and utilisation of data from raw materials and processing to produce food for even more people. We research gentle processing methods that optimise nutritional value as well as natural additives so that consumers can opt for clean-label products. We put taste at the centre of our research, so people no longer have to compromise on texture and aroma when they choose to eat sustainably.
New education in plants and sustainability 
As a result of the rapid development that food science is currently undergoing, our courses in the advanced food education programmes are also evolving. However, so far this has not been reflected in the specialisations offered in the MSc programme in Food Science and Technology. At the moment, we are training MSc students with specialisations in dairy, brewing, and a general specialisation. All students are taught sustainable food production and plant-based foods, but now we are structuring the degree in a new way so that students also have the opportunity to specialise in plant-based foods, which is proving to be very popular among both students and companies.
Programme structure
Following the introduction of the new specialisation, which is available for students starting the programme in September 2023, the following options will be available to students on the MSc programme in Food Science and Technology:
Specialisation in brewing (Master Brewer) – where the courses are fairly fixed. You write a 30 ECTS thesis, while 15 ECTS are for optional courses.
Specialisation in dairy (Dairy Engineer) – where students have a little more freedom and can, for example, choose to do a major thesis for 45 ECTS instead of two optional courses for 15 ECTS and a thesis for 30 ECTS.
General specialisation– where there is great freedom of choice in the courses and where the students themselves choose the focus of their education.
Specialisation in plant-based foods – where the students have a similar freedom to choose courses as in the dairy specialisation. All compulsory courses are in the 1st year, so that it is possible to either do a major thesis of 45 ECTS or go abroad in the 2nd year of the programme.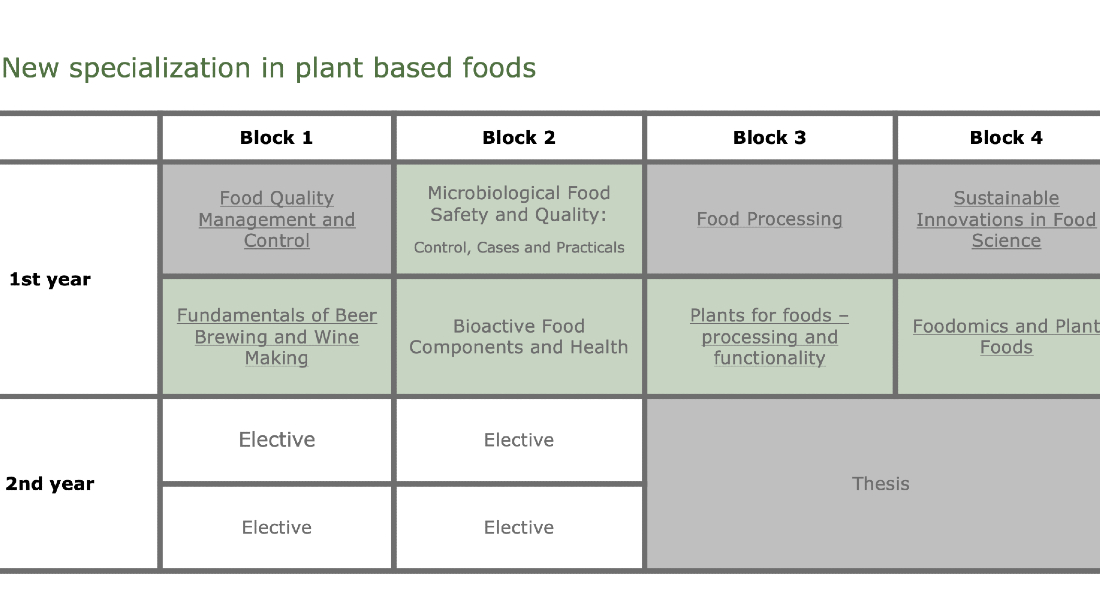 The specialisation in plant-based foods is conditional on it being approved by the board of studies at UCPH's Faculty of Science, which will formally decide during the autumn. (Addition November 2022: THE SPECIALISATION IS NOW APPROVED)
The programme consists of courses that already exist, but are put together in a new, unique way, with an overall focus on plant-based and sustainable food production.
To attain a specialisation in plant-based foods, the following courses will be compulsory:
In addition, the following courses will be compulsory for all students undertaking the MSc programme:
There are also four optional courses.
If you wish to do the major thesis for 45 ECTS, you must eliminate two optional courses.
At UCPH FOOD, we are delighted that it will now be more clear that we at UCPH FOOD are delivering graduates with a broad knowledge of plant-based foods and sustainability, and also that our students will have a tailored opportunity to specialise in this field. 
Topics