Associate Professor Finn Kvist Vogensen´s 40 Anniversary as a State Employee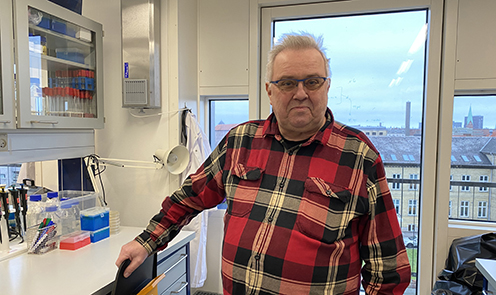 On March 1, 2020, associate professor Finn Kvist Vogensen has been employed at the Department of Food Science, University of Copenhagen (UCPH FOOD) for 40 years. In 1980 UCPH FOOD was part of the Royal Veterinary and Agricultural University and Finn began as a PhD student at the Dairy Laboratory (Mælkerilaboratorium). Six months into his study, Finn's supervisor chose to take up a job in industry and Finn took over the supervisor's teaching, and from then on his path was chosen.
Finn's primary research focus has been the interaction between starter cultures and bacteriophages, and among other things, he has studied the characteristics which allow phages to attack bacterial strains.  Finn's work contains basic research as well as applied, and presently, he is developing alarm systems for warning the dairies when they need to change starter cultures.
UCPH FOOD is hosting a reception to celebrate Finn K. Vogensen on Friday, February 28, 14.00 – 16.00 at the Faculty of Science, 1870 Frederiksberg C, in Konsistoriums Mødesal B17. The reception is open to all, but please register with Lisbet Snedstrup Christensen, lsm@food.ku.dk, no later than February 21.